Passport applications are accepted by appointment only.
The Clerk/Auditor can process your passport application:
Monday through Friday (except holidays)
8:00 a.m. to 4:00 p.m.
To schedule an appointment, please select from the below options according to how many passport applications are to be processed:
Forms and Information
DO NOT PAY FOR PASSPORT APPLICATION FORMS FROM ANY WEBSITE. They can be obtained free from the Clerk/Auditor office, travel.state.gov, or any registered acceptance agency.
The Clerk/Auditor's office does not issue passports, we are an acceptance facility.
The completed application, fees, and all documents are sent to the processing facility in Irving, Texas, who then issues the passports.
For more information about U.S. Passports, please visit: travel.state.gov
For questions regarding your passport application status, please contact the National Passport Information Center directly either by calling 1-877-487-2778 or by emailing NPIC@state.gov.
Frequently Asked Questions
Where can I apply for a passport?
We are located in Suite 320, 2380 Washington Blvd, Ogden, UT 84401.
We will process your application and forward the package to the U.S. Department of State Passport Agency in Irving, TX, which is the department that issues the passport.
What do I need to bring?
The passport applicant needs to be present when submitting the application. (You can't have someone else turn it in for you.)
Please have the following ready when you arrive:
Check or money order made out to the U.S. Department of State. (NOTE: "Counter checks" and "Starter checks" will not be accepted by the Department of State.)
Any form of payment for the Weber County processing fee.
Passport application completed in black ink. (Yes, the Department of State requires that you include your social security number on the application.)
Original birth certificate (or other proof of citizenship).
Current photo ID.
2" x 2" passport photo.
Can I get a passport photo at your office?
Yes, you are able to purchase your passport photo in our office for $10.00 an applicant.
How much does a passport cost?
That depends on whether you want a passport book or card, are an adult or minor, and if you want your passport sent expedited or routine delivery. Please see the Passport Fees Chart.
What is the difference between a passport book and passport card?
A passport book is what people typically think of when they think of a passport.  It is good for any kind of travel anywhere in the world.
A passport card is about the same size and shape as a driver's license. It is valid only for travel by land and by sea to the following locations: Canada, Mexico, Bermuda, and the Caribbean. The passport card is not valid for air travel to any country.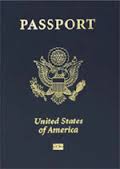 Passport Book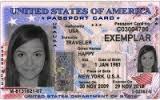 Passport Card
Do I need an appointment?
When is the best time to apply in office?
See our Wait Time Chart for a picture of the best times to come to the Clerk's Office. Earlier in the day, and earlier in the week are usually the shortest wait times. Fridays are usually especially busy, as are the hours around lunch time. If you are able to, please plan to apply for your passport outside of those times.
How long will submitting an application take?
Processing a single passport application can take 30 minutes. If you have several passports to process, please arrive earlier in the day to allow us time to complete all of the applications.
How long will it take to receive my passport?
Due to COVID-19, Department of State estimates are that routine service will take up to 11 weeks to get your passport in the mail after turning in your application. If you expedite the process (for an additional fee), it can take up to 7 weeks.
If you apply for your passport with routine service and need it more quickly than 11 weeks, you can contact the National Passport Information Center (NPIC) for assistance at 1-877-487-2778.
If you need your passport in less than three weeks, please contact a Department of State Passport Agency directly to request an appointment with them. You can learn more about that process through these links:
Note that the passport agency offices closest to Weber County are:
What happens after I turn in my application?
Click here to see a diagram of the passport process after you turn in your application.
What if the passport is for a minor under 16 years old?
Both parents listed on the child's birth certificate must be present with photo ID. The child must also be present.
If a parent's name does not match the name on the birth certificate, supporting documents will need to be included that explain the name change.  Any supporting documents (i.e. divorce decree, death certificate, marriage license, etc.) need to be either the original or a certified copy.
If one parent absolutely cannot be present, they can fill out a Statement of Consent to be brought with the parent that can be present.  They must also provide a copy of the front and back of the ID of the absent parent.
For additional information on parental consent, including what to do if one parent cannot be present, or if one parent has sole custody, please see the U.S. Department of State – Children Under 16 information page.
What if I need to renew, update, or change something on my passport?
We do not handle any of those through our office. You will need to send your renewal application or passport change form directly to the US Department of State. You can learn more about that here: https://travel.state.gov/content/travel/en/passports.html
Renewal Exceptions (these can be done through our office):
Adult passport expired for more than 5 years: You will need to submit a new application.
Renewing a child's passport: You will need to submit a new application.
What do I need if doing a Hand Carry?
Hand Carries are a complicated process. In order for us to accept a Hand Carry application, there are specific requirements.



From the Hand Carry Company, we will need a Letter of Authorization.


You must demonstrate one of these two conditions:

An imminent travel need (less than 14 calendar days)
A need for one or more visas with proof of travel within four weeks.

Proof of imminent travel can include:

Photocopy of airline tickets.
Travel itinerary or reservation.
Letter from an employer, on company letterhead, indicating urgent business travel or a condition that all employees maintain a valid passport.
A congressional or federal agency referral letter.

After a Hand Carry packet has been sealed, the application packet must be delivered to a Regional Passport Agency with seal intact within 5 days.